Monday, January 31, 2005
Damn I am ready!!!!
I am ready for love
Why are you hiding from me
I'd quickly give my freedom
To be held in your captivity
I am ready for love
All of the joy and the pain
And all the time that it takes
Just to stay in your good grace
Lately I've been thinking
Maybe you're not ready for me
Maybe you think I need to learn maturity
They say watch what you ask for
Cause you might receive
But if you ask me tomorrow
I'll say the same thing
I am ready for love
Would you please lend me your ear?
I promise I won't complain
I just need you to acknowledge I am here
If you give me half a chance
I'll prove this to you
I will be patience, kind, faithful and true
To a man who loves music
A man who loves art
Respect's the spirit world
And thinks with his heart
I am ready for love
If you'll take me in your hands
I will learn what you teach
And do the best that I can
I am ready for love
Here with a offering of
My voice
My eyes
My soul
My mind
Tell me what is enough
To prove I am ready for love
Posted by Queenb :: 10:53 PM :: 0 comments


---------------*QB*---------------

Lauryn Ministers to my soul.....

As I look at what I've done
The type of life that I've lived
How many things I pray the father will forgive
One situation involved a young man
He was the ocean and I was the sand
He stole my heart like a thief in the night
Dulled my senses blurred my sight

I used to love him but now I don't
I used to love him but now I don't

I chose a road of passion and pain
Sacrificed too much and waited in vain
Gave up my power ceased being queen
Addicted to love like the drug of a fiend

Torn and confused wasted and used
Reached the crossroad which path would I choose
Stuck and frustrated I waited, debated
For something to happen that just wasn't fated
Thought what I wanted was something I needed
When momma said no I just should have heeded
Misled I bled till the poison was gone
And out of the darkness arrived the sweet dawn

I used to love him but now I don't
I used to love him but now I don't

Father you saved me and showed me that life
Was much more than being some foolish man's wife
Showed me that love was respect and devotion
Greater than planets deeper than oceans
My soul was weary but now it's replenished
Content because that part of my life is finished

I see him sometimes and the look in his eye
Is one of a man who's lost treasures untold
But my heart is gold I took back my soul
And totally let my creator control
The life which was his to begin with

I used to love him but now I don't
(repeat to end)

Posted by Queenb :: 10:45 PM :: 0 comments


---------------*QB*---------------
Saturday, January 29, 2005


Bukky

Posted by Queenb :: 10:09 PM :: 0 comments


---------------*QB*---------------



Moji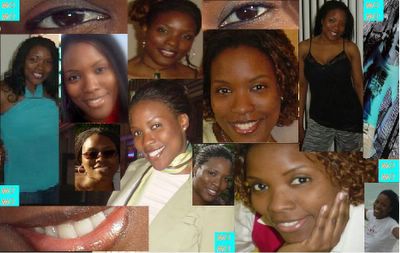 Posted by Queenb :: 10:08 PM :: 0 comments


---------------*QB*---------------
Thursday, January 27, 2005
I have decided....

Is there a time limit to getting over pain?
Is there a period of grief ?
Is it 41 days like when someone dies?
Or is it indefinite?
Could it really be up to me?

Okay..it is time for me to emerge from my cocoon of self pity. It is starting to sicken me. So what my heart is broken? So what I am in pain? Worse things could happen. I could be terminally ill, or dead. So since I have life I have hope right? I mean it isn't the first time this has happened, but hopefully it's the last. Anger and bitterness will only delay healing, I realize that.

It is amazing how people use your weakness to pull you further down…does that make them feel better? "Let me sneak one in why she's down that way I'll be the stronger person" is that their thinking? News flash, my weakness is temporary! This too shall pass! I was told that I unconsciously enjoy wallowing in pain, I'm not sure how true that is, but I am ready to be over it today.

First thing's first, I will start going to church again and bible study, God has always been there for me and it seems ungrateful of me to stop fellowship with him every time I don't get what I want.

Then I would count my blessing…one by one, remembering my friends that are there for me in their own way every time.

Posted by Queenb :: 12:16 PM :: 0 comments


---------------*QB*---------------
Before and After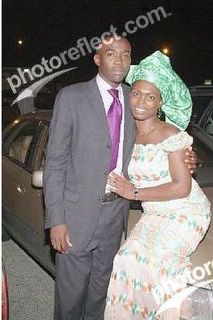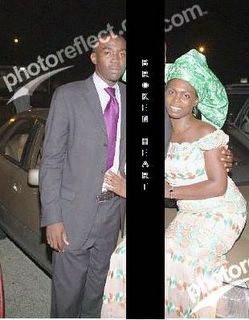 Posted by Queenb :: 12:09 PM :: 7 comments


---------------*QB*---------------
Monday, January 24, 2005

Omolayo
Posted by Queenb :: 11:43 PM :: 0 comments


---------------*QB*---------------

My offensive blog

My sister called me the other day, apparently I had blogged about a friend of hers sometimes last year and the friend was offended by what I had written. It seems someone brought the entry to her attention. I remembered immediately what I had written and I went into my archives and found that it was in February of 02. Then it occurred to me that there could only have been one person that told her of the entry, I was all set to battle because I did not understand what the point of bringing up my blog was but I decided to talk with Uncle Timi first, because the chick I suspect is responsible for all this drama is a friend of his. Well, it turns out she said she had nothing to do with it and all that crap. I decided to drop the whole thing because I am way to old for he said, she said.
Anyhow, the fact is I wrote that entry, I am not sorry for what I wrote, but I am sorry that offence was taken to it, I am also sorry that my sister was caught up in the middle. I just wish the faceless coward that delivered this YEAR old gist will man up to it.
Which brings me to my next topic of discussion...
Why do people feel the need to talk shit about people?
Why do you spread bad news?
Why cant you back your shit up?
This is one area I know I am good for, if I ever say anything about anyone, best believe repeating it in their face is not an issue.
People just talk so much shit, it makes me sick!

Posted by Queenb :: 7:41 PM :: 1 comments


---------------*QB*---------------
Sunday, January 23, 2005


Mua!

Posted by Queenb :: 7:53 PM :: 0 comments


---------------*QB*---------------



Tuoyo and Dayo...sweet couple.

Posted by Queenb :: 7:50 PM :: 0 comments


---------------*QB*---------------

How could an angel break my heart?.....(from my archives)

I met this man a little while ago six months to be exact, at a company event. We both work in the medical fields and we had an annual meeting. We were introduced and we spent the greater part of the evening engrossed in deep conversation. It was obvious there was chemistry between us. He was about 30 years old, 6 ft tall, medium built with very seductive features. I fell in love instantly but I couldn't quite read him, this further intrigued me because I usually know when a man is into me. I was cautious about flashing green lights so I maintained a steady yellow.
Our friendship grew as we began seeing more and more of each other and sharing thoughts about what our ideal partner would be, we would call each other day and night and share the most intimate secrets, it was as if I found a soul mate. I found that we were completely ourselves when we were together and there was no form of pretence.
I believed in love and I believed in soul mates and I also believed in the myth that there is just one partner created for each being, faith brings you to meet that person but I believe it is then left to you to ensure you don't miss out on the opportunity. This has always been my explanation or justification for my past failed relationships and it was enough to comfort me.
We would take turns sleeping over each other's homes without any form of physical intimacy, our conversation or even silence was completely fulfilling!
It can't get any better than this I thought, but it did! It got better with each passing moment! His friends and mine were envious of the time we share together and swore we were a couple; we would look at them and then at each other and laugh it off like it their notions were absurd. We enjoyed all of the same things but mostly we enjoyed being with each other. This went on for six months and I started getting greedy! I wanted him emotionally but mostly physically! I felt a famishing hunger I never knew existed and I wasn't sure how to tactfully make my feelings known. I decided to invite him to dinner; I chose a restaurant we both enjoyed.
It was a romantic evening and I was oozing with optimism, he arrived at the restaurant right on time and I was waiting eagerly at our favorite table, which I reserved beforehand. As he made his way to meet me, I was flooded with emotions; I pictured our life together, we would have such beautiful, intelligent and well mannered children, we would live in a vast estate with all of life's opulence but most importantly we would be together..... forever!
He tapped my shoulder to bring me out of my trance; I uttered my apologies and told him I had a lot on my mind.
We ordered from the menu and had wonderful conversation, about work, the weather the political situations, about every thing but our plans for OUR future. I figured this was my chance to share my thoughts with him, cause even though nothing we've shared has alludes to us being a couple, I secretly felt betrothed to this man and no other man has measured up since I met him.
I told him being in my life the last six months has taken away all fears and reservations I had about life, about love. I told him I loved him, not in the brotherly way but in the man loves woman way and I have had these feeling since our initial meeting and I wanted to know if he felt the same way. I told him I would love for us to take our friendship to the next level and become a couple. I ended my spiel with "Later on in my destiny, I see myself having your child, I see myself being your wife and I see my whole future in your eyes".
Throughout my entire discourse he was silent his face was without expression so I did not have a feel for his thoughts. He held my hands and looked into my eyes and said that he is flattered that I have these feelings for him but he is unable to fulfill my destiny because he is ........ GAY!
Posted by Queenb :: 4:27 PM :: 2 comments


---------------*QB*---------------



My Family

Posted by Queenb :: 5:03 AM :: 1 comments


---------------*QB*---------------



DQUEENB

Posted by Queenb :: 4:02 AM :: 0 comments


---------------*QB*---------------

Not feeling so hot!

I thank God that I am up and about after my battle with God knows what on Tuesday. I woke up Tuesday morning with a sharp pain in my chest, not able to get out of bed. I search for my phone and called everyone but no one picked up, it was like 3am so I guess they were sleeping. I laid still and yelled for Omolayo but she was fast asleep. I considered calling an ambulance but I was naked and I couldn't get up, plus who would let them in? I decided I would wait till Omolayo got up. She finally heard my screams and came running to my room asking what was wrong. I instructed her to take a shower and get dressed and she did so quickly. We laid in bed together till I was able to get up at about 7am. My pain had subsided so I dressed and took Omolayo to school. I checked myself into the ER and after hours of being poked and prodded I was told they could not find anything. The doctor told me that my symptoms however are consistent with a disease called Lupus. I probably should have been afraid but I wasn't, I felt a calm though, I have been having this pain for over a year now and finally they can put a name to it. He went on to say I needed to be diagnosed but it couldn't be don in the ER. I spent the rest of the day in bed till later when Dare, Remi, and Denrele came by, they stayed the night. I kept Remi up till 3:30am lamenting not about my health but about my broken heart. She started to offer me advise but I really didn't want any, I just wanted someone to listen to how hurt I am. Remi vowed never to spend the night at my crib again because she wasn't a fan of my vigils, plus she enjoys a two-way conversation better. I finally let her sleep. In the morning we were both tired as hell! Remi offered to drop Omolayo off at school and Denrele and I left home together. It is so nice to have people worry about you and have friends surround you when you are most in need.
Posted by Queenb :: 3:37 AM :: 0 comments


---------------*QB*---------------
Saturday, January 22, 2005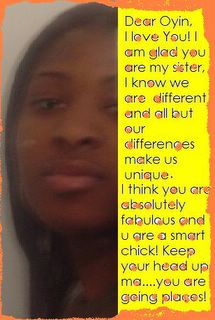 Oyin.....my beloved sister!

Posted by Queenb :: 4:23 PM :: 0 comments


---------------*QB*---------------

Weekend Unplanned

In my effort to get my mind of things, I decided to go to Remi's house for the weekend. Denrele picked Omolayo and I up at about 8pm on Friday. We had a good evening, I wrestled Denrele until I felt like I was having a heart attack. I took my drugs and rested for a while. I decided to play a prank on Denrele and I called every number saved in her phone and allowed it ring once the hung up! Talk about joblessness! It wouldn't have been bad except it was 3:00AM! LOL Denrele nearly passed out when I told her what I had done! I finally slept at about 4am.
Remi woke me up at about 12noon to inform me that I would be making Jollof rice for the whole town because she was catering her uncle's gig later today. I reluctantly started cooking and I ended up making a drum of rice that can feed 500 insted of just 30! Waramess. I am done now and I will be returning to bed! I should have stayed my fat ass in my house, dwelling on my misfortunes! At least that wouldn't involve manual labor! What the fuck do I look like anyway Chef Boladeee?????
Posted by Queenb :: 3:50 PM :: 0 comments


---------------*QB*---------------

Denrele's Graduation


Denrele's Graduation

Posted by Queenb :: 2:47 PM :: 2 comments


---------------*QB*---------------

Remi and Babs

Remi and Babs

Posted by Queenb :: 12:03 AM :: 0 comments


---------------*QB*---------------
Wednesday, January 19, 2005
What Flavor are you?

I taste like Menthol.


I am refreshingly different; some people don't appreciate that. My sharp honesty gets up some people's noses, while others really enjoy it. I am something of an acquired taste. What Flavour Are You?

Posted by Queenb :: 11:26 PM :: 0 comments


---------------*QB*---------------
Monday, January 17, 2005
Bowling 101

I went bowling yesterday with a group of folks from my hood. I did not expect to have a good time; in fact the plan was to show face in appreciation of being invited, and then leave abruptly, making some lame excuse about having to feed my child. Prior to the invite, I had planned on spending another night moping in bed and feeling sorry for myself and angry at the world. I had taken Omolayo to work because I couldn't find a sitter and I was exhausted from sitting all day doing jack shit. We left work at about 10pm and headed for the bowling alley.
A lot of the younger folks from our hood were there but I pride myself in being able to mix as long as I didn't feel disrespected and I was quick to check anyone of the young'ns acting out of place.
I had never been bowling, it wasn't a sport that tickled my fancy and I would be caught dead in some ugly fungus infected rental shoes!
Anyhow I sat and observed trying to get the gist of the game and despite myself, I was having fun! Omolayo was happy to be out of the room that held her captive the last 7 hours. I bought her some popcorn and settled with a Budweiser, beer isn't really my thing but it was all they offered. I fetched my Marlboros from my car and began to unwind. Dupe joined the crowed at about 11pm just in time for my singing debut at the karaoke bar. I sang killing me softly, a track from my beloved band Fugees from back in the day. Omolayo asked they had Beyonce and to her delight they did. So Princess O took the mike and a star was born. The crowed stared bewildered as my four year old sang 'dangerously in love' not missing a note! I stood beside her for support but she waved me away in fear I may steal her spotlight. The crowed cheered as she ended the song and proudly flashed all 20 of her pearly whites. I was glad she had fun, and in spite of myself, I had a blast as well.

Posted by Queenb :: 12:01 PM :: 2 comments


---------------*QB*---------------
Sunday, January 16, 2005

all the pieces of me
Posted by Queenb :: 4:39 PM :: 0 comments


---------------*QB*---------------
Saturday, January 15, 2005
What a mess!

All right, so you like this dude and you?ve been dating for a few months, it is finally time for the deed to be done?Oh yeah! you are getting you some tonight! So you cook your famous Efo elemi mejo and clean your crib and you?ve already stopped by Victoria Secret for lingerie your ass can?t afford, but hey you couldn?t bear to let him see your mix match ones with holes in them. You?ve also laundered your sheets and sprayed your pillow with D&G?s light blue. You got your ringer off so your annoying ass friends won?t interrupt what is about to go down, they do that shit all the time!The mood is right and you can?t wait! You casually leave your most expensive shoes by the door so the guy knows you?ve got class. After your 10 months dry spell, you are going for it full throttle! So he rings your bell at 7:45, you wait for a couple minutes so you won?t seem too eager.You open the door and he is standing there in all his grandeur, 6 foot 2 inches looking like a page out of GQ! Fyne boy, no wrinkles, no pimples with a dimple! DAMN! He looks at you with lust in his dark brown eyes and gives you that smile the makes your insides do flips. You sit and watch him as he devour the delicious meal you?ve prepared, hoping he will devour you in the same manner later. He compliments your food and winks at you, ?put it on me? you thought to yourself. So yall skip desert and lay on your Italian leather sofa to watch ?Sleepless in Seattle?, you both love the movie die. He whispers in your ear about how cute you are looking and sent chills down your spine. Ten minutes into the movie he is nibbling your ear and you are moaning feverishly, he kisses your forehead and asks ?where have you been all my life?, you lift your head and kiss him passionately. He carefully removes all of your clothing as you remove his, his nature rose to the occasion confirming he hungered for you as much as you did for him. As you both fondled each other, you feel him jolt violently, screaming ?dear god! dear god!? as if in pain, his eyes begin to roll backward as if he was having a seizure!. You look at him with concern, which soon vanished when you found that he had expressed himself all over your beloved sofa! Your dry spell continues?. What a mess!Bola Odegbami

Posted by Queenb :: 7:37 PM :: 3 comments


---------------*QB*---------------

I do...or do I?

Please Omobolanle be my wife! I love you with all my heart and I want to spend the rest of my life with you. You complete me in ways I?d never thought possible.?

So, he finally proposes! He hands you a black box and tears welled your eyes, you could barely contain yourself, you muffled what appeared to be a ?yes? as you struggled to open the box. Your heart dropped as you saw a gold band with what appears to be diamond Chip! It reminded you of the earring you used for your first piercing.

WTF? Your girls are going to have a field day at your expense when they see this because y?all already had this conversation! You were the most vocal because you were certain he would do at least a full carat if not two! But this shit right here was like a .005, it look like a little misplaced dot! I mean, brother man clocks like 80 grand annually! You would think he could do berra!

You accept it and pretend to be delighted but he catches on that you were bothered.
Clueless, he asks if you like it ?hell no? you thought to yourself, but you smiled and lied to him that it was beaurrriful!

So brothers, please take notes:

An engagement band symbolizes eternity?. you plan to be with her forever and the ring is a token of that promise to her. You will only buy it once so invest in it.

Get to know your woman! What kind of jewelry does she wear? Is she glitzy or frugal? Which shape does she prefer? There are several, so it?s important to know! We?ve got Round, Princess, Emerald, Asscher, Marquise, Oval, Radiant, Pear and Heart!
To determine the setting you will opt for. The setting is the arrangement of stones within the metal frame of the ring. A good setting is like the right picture frame: it needs to show off what is inside and be able to fit in with its surroundings. It is, therefore, important to find the perfect setting that goes not only with the stone chosen, but also looks good on your First lady?s hand! A woman should love her ring and wear it proudly. Engagement rings are popularly available set in gold and white gold. Silver is rarely used because it tarnishes and therefore is not a good representation of eternity. Platinum is now popular and worn by almost one-third of today's engaged women. 14-Karat gold and 24 karat gold are numbers, which refer to the purity of the gold. 24- karat is pure gold, while 14-karat is a blend with 14 parts gold and 10 parts of another metal and please stay away from the 10-karat cause you may as well hand her your sprite can!


As for how much you should spend? well you do the math. If your monthly take home pay is $5,000, then multiply it by two. So her ring should cost at least $10,000. Save for it or put in on a card (when you marry her she?ll help pay for it).

Posted by Queenb :: 7:32 PM :: 0 comments


---------------*QB*---------------

Survey

1.What did you do in 2004 that you?d never done before? wore a size 10!

2. Did you keep your new years? resolutions, and will you make more
for next year? Nope, Yup


3. Did anyone close to you give birth? Ekpen



4. Did anyone close to you die? Nope


5. What countries did you visit? None

6. What would you like to have in 2005 that you lacked in 2004? A
man

7. What date from 2004 will remain etched upon your memory, and why?
Dec 4...sorry I cant share


8. What was your biggest achievement of the year? nada

9. What was your biggest failure? There is not enough room to write

10. Did you suffer illness or injury? Lots


11. What was the best thing you bought? my black boots


12. Whose behavior merited celebration? Omolayo


13. Whose behavior made you appalled and depressed? Dare

14. Where did most of your money go? Shoes

15. What did you get really, really, really excited about? nada


16. What song will always remind you of 2004? none

17. Compared to this time last year, are you:
i. happier or sadder? Sadder
ii. thinner or fatter? fatter
iii. richer or poorer? poorer

18. What do you wish you'd done more of? Go to church

19. What do you wish you'd done less of? Fall in love

20. How will you be spending Christmas? Home....Alone

22. Did you fall in love in 2004? But of course

23. How many one-night stands? One night werrin?


24. What was your favorite TV program? The Practice

25. Do you hate anyone now that you didn't hate this time last
year? Nope ....not hate just really angry at .....


26. What was the best book you read? Good in bed

27. What was your greatest musical (re)discovery? Lauryn Hill Miseducation

28. What did you want and get? nothing


29. What did you want and not get? everything


30. What was your favorite film of this year? Shrek 2


31. What did you do on your birthday, and how old were you? Nothing ....26

32. What one thing would have made your year immeasurably more
satisfying? Everything I didn?t get


33. How would you describe your personal fashion concept in 2004?
Hey! I held it down


34. What kept you sane? Omolayo

35. Which celebrity/public figure did you fancy the most? F*@K them all


36. What political issue stirred you the most? none


37. Who did you miss? God


38. Who was the best new person you met? No one


39. Tell us a valuable life lesson you learned in 2004: Don?t be too
vulnerable...life sucks!


40. Quote a song lyric that sums up your year:....
Love takes time to heal

Posted by Queenb :: 7:25 PM :: 0 comments


---------------*QB*---------------

lyrics hit home

Why can't I breathe whenever I think about you?
Why can't I speak whenever I talk about you?
Posted by Queenb :: 7:11 PM :: 0 comments


---------------*QB*---------------
Get together at Moji's

Hanging out in MD, December 2004

We had major fun hanging out at Moji's we played taboo and male bashed till about 1am, drinking Smirinoff and Hennessey.

Posted by Queenb :: 4:01 PM :: 0 comments


---------------*QB*---------------

Thelma Akpe

Happy Birthday Thelma!!! 27 is not a joke o! Give Akin a kiss for me!
Posted by Queenb :: 2:57 PM :: 0 comments


---------------*QB*---------------
Even more pictures

My Princess O!


Moji and I at Sola's wedding


Hanging out in MD in Sept 04 with L-R Tosin,Mua, Moji, Sola,Bukky, Nneka and Wande



Vicky's Wedding in August 04 L-R Wande, Moji, Mua, Remi


Vicky's Wedding Brides Maids


Hanging out in MD L-R Lola. Moji, Wande, Mua, Sola and Friend


In Raleigh with my dearest friends Tuoyo and Dayo



My Ace Boon Coon, Remi and Princess O


Moji's birthday 04 (friends)

Posted by Queenb :: 2:46 PM :: 0 comments


---------------*QB*---------------
Random Pictures


D QUEEN B


New Year 2004


Thelma Akpe (Happy Birthday!)


Moji and I( My real hair!)

Posted by Queenb :: 2:22 PM :: 0 comments


---------------*QB*---------------

tBLOG - Bee Rules

tBLOG - Bee Rules

My old blog! I had to ditch tblog, they were always down, lost all my archives and did not provide tech help! Tblog SUCKS!!
Posted by Queenb :: 12:51 AM :: 0 comments


---------------*QB*---------------

I am hurting

I am hurting
I am hurt…not physically but emotionally
I feel pain so deep it burns. I am angry and bitter and I wonder how I let it get to this.
When my father left us, it hurt then but not this bad.
When Tolu beat me, it broke me but it didn't crush me
When I have a crises it aches me but never like this
This is the worst pain I've ever known and I never even saw it coming. I was so sure I had endured for a reason and every story has a happy ending…right?
I guess not. I refuse to submit to this pain, I will not let this hurt get the better of me. I will move on. I will not compromise or settle. I will move on. After all, I am Fabulous! And this too shall pass!

Posted by Queenb :: 12:33 AM :: 1 comments


---------------*QB*---------------

Dear Pain

Dear pain…I have gotten to know you
I have learnt to love you
You've remained a constant friend
You've thought me to accept you
I have learnt to embrace you
You've remained a constant friend

I wonder how I came about you
Oh my dearest pain, I can't seem to live without you
You have been a loyal friend.
You have stayed with me from the very beginning
You vowed that you would never leave me
You have been a loyal friend.

You have been o' so so faithful
I wonder if only death will do us part
You have been my only friend
What have I done to deserve you?
What will I have if you desert me?
You have been my only friend

I wonder if Joy will come in your stead
I wonder if it will be as faithful as you've been

Bola Odegbami

Posted by Queenb :: 12:30 AM :: 0 comments


---------------*QB*---------------

Do you believe in love?

Do you believe that unconditional love cannot be compromised? I do, but I think a lot of folks have given up on love and it makes me sad. Our generation has chosen to settle for the next best thing. We love for different reasons but true love really does exist. Irv Gotti said " you are allowed 3 great love in your life" I am totally feeling him on that…but how do you know when you've exhausted your share?
Why is it that some get it right on the first try, but most never find it at all?
Is it possible to love someone you've never met? You know… like a cyberpal. Or can you fall in love at the very first sight? Maybe it will take a friendship that evolves into love, just so you don't recognize it right away.
When love is not reciprocated does that count against you or against the one you love? I think you are allowed to love as many times as you can but only get 3 chances to be loved in return. It is now up to you to hold on to one of those 3 loves and just incase you miss it the first two times…. you get one more chance!
So what happens if you let it pass you by? Well then you live a life without love, a life of reason, you miss out on the rush and the butterflies and the skipping heartbeats and the lack of sleep when you haven't seen your love and the sudden loss of appetite from thinking about your love. You miss out on all the good things love can bring.
How then do you recognize love? I am not perfectly sure but for me it's when;
· You can stand him snoring all night…music to your ears
· You watch him do the #2
· You kiss him first thing in the morning
· You can fart without discomfort and find it hysterical
· You can pick your nose and roll it…. then show him
· You pick his nose and remove wax from his ears
· You wear your 'laundry day' underwear when his around
· You can tell him that last round was not so good
· You can cry when his around
· You let him watch you change your pad/tampon
· You wear his shirt to bed when he isn't there
· Your heart skips a beat when his name pops up on your CID
· You laugh out loud when you think of a personal moment you shared
· Your face lights up when he walks into a room
· No matter how bad your day has been, he can make you smile

I could go on for days but its different for everyone, and if dude is comfortable with half of these things…. chances are he loves you too!
I know, I know…I am such a hopeless romantic!

Posted by Queenb :: 12:25 AM :: 0 comments


---------------*QB*---------------

Getting to know me

Act your age? Or younger? Probably my age

Born on what day of the week? Shit….I dunno

Chore you hate? Dishes and Laundry

Dad's name? Olujimi

Essential makeup item? Kajal

Favorite actor? Male?Mos Def Female? Angela Bassett

Gold or silver? Silver

Hometown? Wasimi Oloshe.

Instruments you play? Violin

Job title? Sitter

Kids? Omolayo Feyintoluwa, the apple in my eye…the pain in my ass!

Living arrangements? 2 bedroom apartment.

Mum's name? Moji

Need? Love

Overnight hospital stays? 6 time a year

Phobias? Water, roller coasters

Quote you like? Life has no guarantees

Religious affiliation? Christian.

Siblings? 5 in all…papa was a rolling stone

Time you wake up? 7am at the earliest

Unique talent? Shopping at a bargain

Vegetable you refuse to eat? Brussels Sprout

Worst habit? Used to be smoking…then I quit; now I need a new one.

X-rays you've had? Chest, abdomen, teeth…hell my whole body

Yummy food you make? Efo, Jollof rice and curry chicken.

Zodiac Sign? Virgo

Posted by Queenb :: 12:23 AM :: 0 comments


---------------*QB*---------------
To braid or not to braid...that is the question.

Queenb and Mo

Just looking over a few of my old pictures and noticed my hair looks a lot better when braided....atleast in my opinion, so pls tell me, should I braid my hair? I will have to post a picture where its not braided for a fair comparison.
With all the heartache I have been through the last few weeks, I have not had the chance to fix my hair. But I am ready to get out my pity pot and deal with things head on and 1st on the list....get my hair done.

Posted by Queenb :: 12:08 AM :: 0 comments


---------------*QB*---------------
Friday, January 14, 2005
Denrele's Graduation

Denrele Graduation

Congratulations! Baby Girl on your recent graduation! May this be the beginning of greater things to come. I wish you all the best in your endeavors.

Posted by Queenb :: 9:01 PM :: 0 comments


---------------*QB*---------------

Dear Ma...

Dear ma,


Have I ever told you I love you?

Well I should have

Do you realize how much you mean to me?

I'll tell you

Does it seem like all your suffering was in vain?

It wasn't

Do I make you sometimes feel like I don't appreciate you?

Because I do

No matter what you do, how you act, what you say and who you are

I will always be glad that you are my mother. I love you unconditionally and I am grateful to the almighty that he chose you as the vessel to give me life.

We may not always see eye to eye but understand that I will forever be in your debt for the sacrifices you made for me.

I would not trade you for anything in the world and I would not change a damn thing about you.

Forgive me if I seem ungrateful at times, because I am not. I am grateful I have you in my life and I am proud that you are my mum.

If ever again you are in doubt of my love for you, read my words, keeping in mind that they are sincere and find comfort in them.

This New Year, I will work on our relationship, I will do my part and whenever I fall short, be sure to do yours.



Y.T.

Omobolanle

Posted by Queenb :: 8:43 PM :: 0 comments


---------------*QB*---------------

My New Year Resolutions

This year;
Get closer to God
I will eat better
Exercise
Take my drugs
Take better care of myself
Improve my relationship with my family
Improve my relationship with my daughter
Shop less
Clean more
Be true to myself
Get better grades
Lose Weight
Find a steady job
Buy a new car
Read more
Humble myself
Get a washing machine/dryer
Redecorate my living room
Paint more
Cook more
Get a tattooTake a vacation

Posted by Queenb :: 4:42 PM :: 1 comments


---------------*QB*---------------

I am still up!

It is 4pm and I am still up!
Posted by Queenb :: 4:16 AM :: 0 comments


---------------*QB*---------------

DQueenB
Posted by Queenb :: 4:00 AM :: 0 comments


---------------*QB*---------------

New Year Weekend

Posted by Queenb :: 2:39 AM :: 0 comments


---------------*QB*---------------

New Year Weekend

I had an absolutely fabulous weekend; It started out lazy, considering I spent the entire half of the day in bed. My phone was ringing of the ying yang and I was to lazy to pick it up but my trusted Princess O filled in as secretary and I heard her every few minutes or so saying " my mum is sleeping...call back". I finally got up to go grocery shopping because my girls were coming to visit, Moji, Lola and Tolu. I made them catfish and rice. They arrived at about 6pm, I was so excited, and I guess I do miss MD just a bit. I called Remi to join us on a night out. We had a blast! We went to Jillian's with Remi, Dupe and Derenle on Saturday night and then on Sunday we went to church, then to the mall. I went to Benetton to visit my beloved jacket, still not on sale and winter is almost over! Moji and I fought as usual, and then made up just as quickly. I indulged in a cinnabon knowing my ass was starting to look like Anna Nicole's before trim spa! I am getting humongous! I now wear a size 10! I don't know where it came from but its gotta go! Okay after this one last cinnabon. Note to self: Loose 25lbs by summer 2005. I know I am not that big but considering the type of shit I like to wear…I'll just look ridiculous! I refuse to come to terms with the fact that I can no longer shop in the juniors department!
We took a bunch of pictures and headed home for dinner! I made Jollof rice and curry chicken with the help of Lola. We chilled for a bit after dinner and then we decided to go see 'meet the Fockers' Remi and Dupe joined us. It was hilarious! We stayed up till 5:30 am gisting about everything! My ass is going to be tired as hell Monday morning! I decided to spend the morning with my girls, we went shopping again, well they went shopping my broke ass just watched. They headed back to MD at about 4 pm. I decided to spend the rest of the day at Remi's. BTW my dawg Remi recently bought a crib! 3 bedroom, 2 ½ baths, 2-door garage single family home. That shit is like that! she laid it out! It is tastefully and sparingly furnished and looked like something out of cribs! Kudos to Remi, I am so proud of you sister girl! I gave her an abstract 36x40 painting I made and it hangs over her fireplace, I think it's my best work yet. Moji made me promise to make her one too, and I shall.
I am glad my chicka were in town this weekend it started my new year on a good note and took my mind off all the shit that has been bothering me.

I wish you all a very fabulous new year and may God bless you as he continues to bless me.





Posted by Queenb :: 1:46 AM :: 1 comments


---------------*QB*---------------